A 'New' Economy 2013 – 2031 summarises our economic direction and priorities.  The Economic Framework and priorities are reviewed annually and communicated to our members and the wider regional community.
SCBC DIRECTION FOR 2017
SCBC 2017 Focus Areas outlined below are consistent with 2016:
Maintaining the focus on the regional job target of 250,000 jobs by 2033 and understanding what industries and projects the jobs will be created and lost.
Communicating to the broader community the need for economic growth and for public and private investment and why it is important for their family's job and career prospects.
Keeping the focus and pressure on all levels of government to deliver critical infrastructure.
Capitalising on our regional's strengths and in particular the opportunities presented by the Kawana Hospital and Health Hub.
Being more representative across all industry sectors.
SCBC held its 2017 strategic workshop with members in March with strong attendance by members and invited guests.
SUMMARY OF THE FOCUS AREAS, WHY,
KEY MESSAGES AND ACTIONS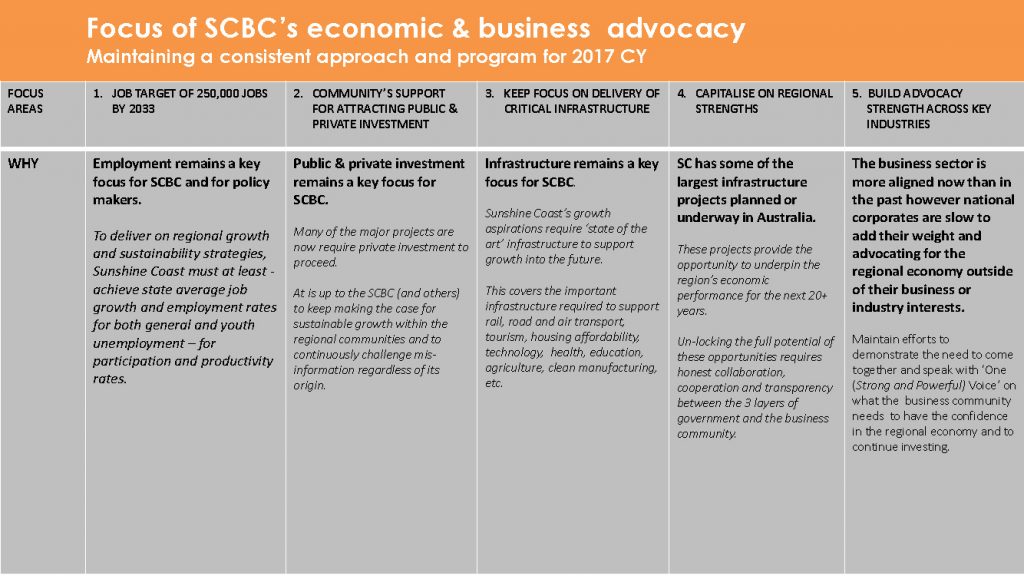 (Click images to enlarge)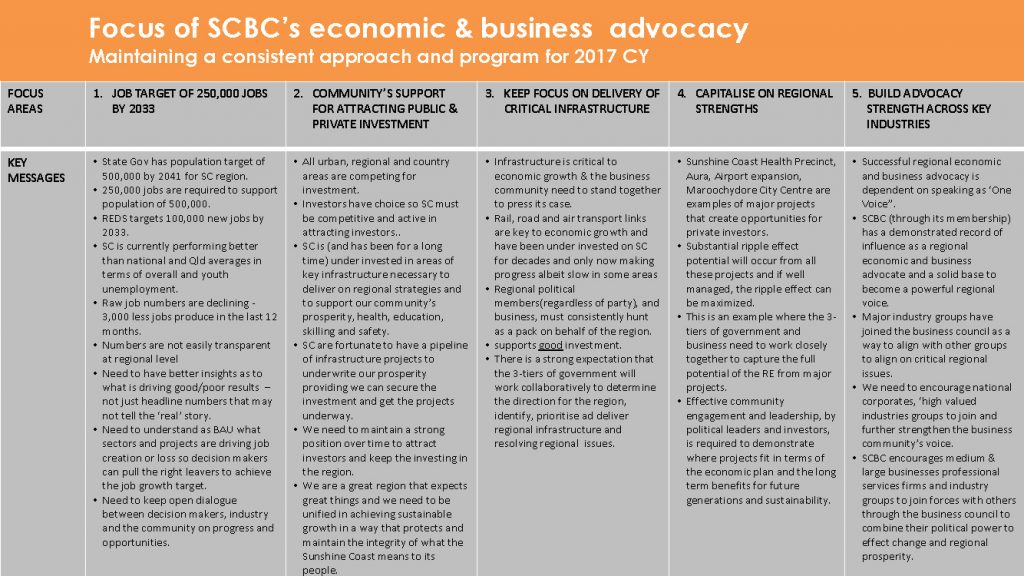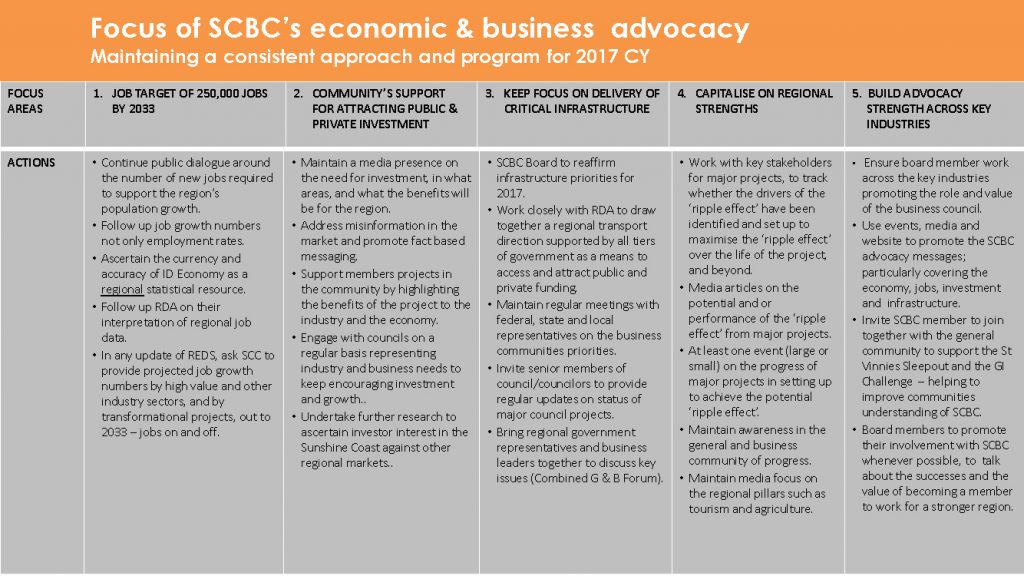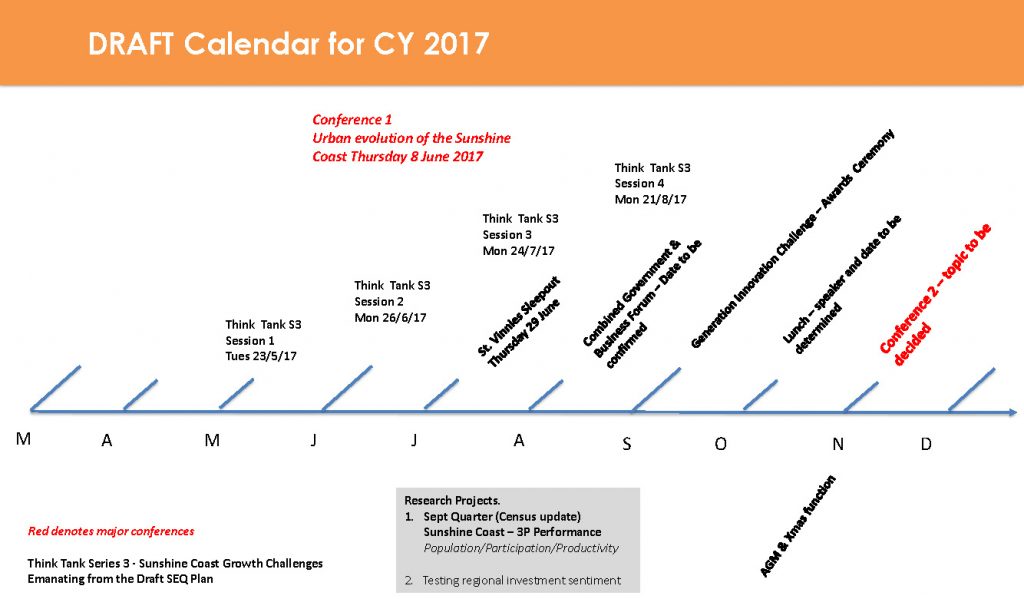 Members of SCBC board are available to go through the focus areas with any of our members. If you wish to take up that offer please contact us on info@scbusinesscouncil.com.au. We will keep members informed of our progress through updates in future newsletters and on our website www.scbusinesscouncil.com.au.
SCBC CONTRIBUTION TO
THOUGHT LEADERSHIP SINCE 2010
Over the past five years SCBC drawn attention to topics that tightly link to our key focus of investment, infrastructure and employment. Here is a reminder of some of the areas we have stimulated, and sometime provoked, community discussion which we have supported with SCBC commissioned research:
July 2010 | First significant health forum focusing on what we could learn from overseas experience.
May 2011 | Board room lunch focusing on Health Precinct's master plan.
March 2012 | Sunshine Coast's Economic Direction.
August 2012 | Health Precinct conference on importance of the 'Ripple Effect' and developing a 9 month action plan.
December 2012 | March 2013 and June 2013 review of action plan with Sunshine Coast Council and industry.
April 2013 | Growth of the Middle Class in Asia – are there opportunities for the Sunshine Coast?
November 2013 | Youth Prosperity conference.
March 2014 | Future of Agribusiness on Sunshine Coast & how to invest.
May 2014 | Follow up to the Youth Prosperity conference.
March-June 2015 | Think Tank Series 1:  PROTECTING THE DIVERSITY AND RICHNESS OF THE SUNSHINE COAST REGION BEYOND ITS ECONOMIC VALUE balancing growth | development | environment
June 2015 | The Challenge for Regional Australia in the Competition for Investment
November 2015 | Human Rights Symposium
February-June 2016 | Think Tank Series 2:  PROTECTING THE DIVERSITY AND RICHNESS OF THE SUNSHINE COAST REGION BEYOND ITS ECONOMIC VALUE  – Increasing the effectiveness of community engagement.  What needs to change?
August 2016 | Realising the Ripple Effect conference
August 2016 | First Combined Government and Business Forum
September 2016 | The New Zealand Story – lunch
November 2016 | Federal Election:  Meet the Candidates – forum
May-August 2017 | Think Tank Series 3:  Sunshine Coast Growth Opportunities and Challenges Emanating from the ShapingSEQ Regional Framework
June 2017 | Urban Evolution of the Sunshine Coast Conference
September 2017 | Second Combined Business & Government Forum
UNDERPINNING AIMS
We also seek to continually improve our interaction with the business community by:
Growing SCBC's membership and sponsorship to encourage greater participation from all regional business, regardless of industry or size
Providing events, networking and feedback functions for the benefit of members
Collaborating with other industry groups to increase the regional industry and business information flow to members
Continuing to improve our communications with governments to ensure our voice is heard, and
Regularly updating this website to serve as a rich source of information and communication for members.
ADVOCACY RECORD
SCBC has a successful economic and business advocacy record