Monday 20th July 2020
Starts 4:00pm – Ends 5:00pm
All levels of government are turning their focus to how we can reboot our economy.  The road to recovery will be long and challenging.  Now more than ever we need a State Leader who can unite and lead all Queenslanders to rebuild an already under performing economy and get Queenslanders back into jobs. . .  good jobs.
Join our 60 minute webinar to hear Opposition Leader Deb Frecklington MP outline her party's priorities in the lead up to the 31 October state election and outline how an LNP Government will Get Queensland Working.
There will be a 15–20 minute question time – an opportunity for you to ask your questions of the LNP Leader.
About Deb Frecklington MP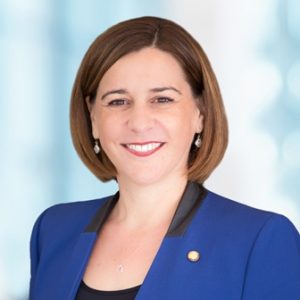 Deb was elected to State Parliament in 2012 as the Member for Nanango.  She was appointed Assistant Minister for Finance, Administration and Regulatory Reform in 2012 with the major task of implementing the former LNP Government's red tape reduction plan.   In 2014, Deb was appointed to the position of Assistant Minister to the Premier with oversight for the G20 in Queensland. The G20 Leaders' Summit was the most significant meeting of world leaders Australia had ever hosted with more than 4,000 delegates and 3,000 members of the world's media attending. The event was commended as the most successful and safe G20 ever held.
Deb was re-elected for a second term in January 2015 and worked in the role as Shadow Minister for Agriculture, Fisheries and Forestry.  She was elected to the position of Deputy Leader of the LNP in May 2016 and appointed to the role of Shadow Minister for Infrastructure, State Development and Trade and Investment.  Deb was re-elected for a third term in November 2017 and took over the leadership of the LNP the following month.   She lives in Kingaroy in the South Burnett with her husband, Jason, and three daughters. Deb believes strongly that regional communities offer endless diversity and opportunities and are the growth centre of Queensland.
About your host today, Sunshine Coast Business Council (SCBC)
SCBC was formed in 2004 to be the leading regional advocate for business and for the economy.
Our purpose is to work cooperatively with industry and government to maximise regional economic performance by stimulating thought leadership and discussion around economic growth, infrastructure, investment and employment.
Click below the booking button to receive the webinar link.  You can also pose your questions when you register!  Please feel free to pass to your colleagues.