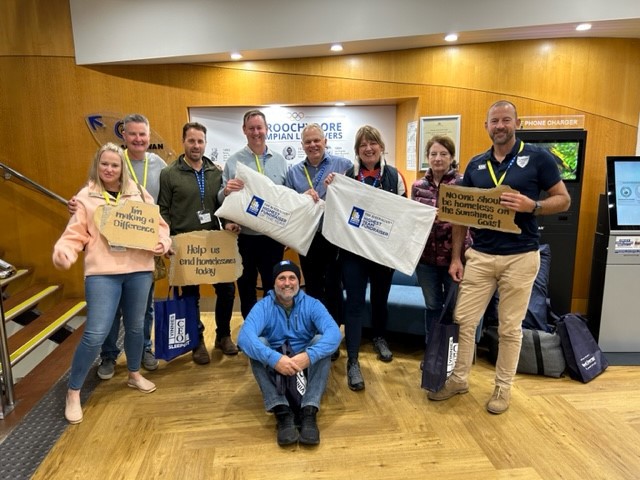 Last night eleven Sunshine Coast Business Council members raised more than $51,000 as part of the 2023 Vinnies CEO Sleepout, to support the estimated 1,650* people experiencing homelessness on the Sunshine Coast each night.
With homelessness becoming an unwelcome reality for many on the Sunshine Coast, the Vinnies CEO Sleepout held on Maroochydore beach, raised urgent financial support to provide accommodation, food and essential services to the most vulnerable in the community.
Sunshine Coast Business Council (SCBC) Chair and Sleepout participant Sandy Zubrinich said she was delighted that the Sunshine Coast business community had once again come together to spend a night with nothing more than a sleeping bag and piece of cardboard to raise funds and awareness for the cause.
"We are very proud to have our SCBC members participate in last night's event who collectively contributed more than $51,000 towards the event's $179,835 total, with every dollar helping to keep individuals and families in our Sunshine Coast community off the streets," said Ms Zubrinich.
Vinnies Sunshine Coast President Beryl Rowan thanked the Sunshine Coast Business Council and all participants at the CEO Sleepout for coming together to raise valuable funds to support locals escape homelessness.
"The Sunshine Coast has been hit hard by our ongoing housing crisis and we are truly appreciative to all who support Vinnies' work in helping provide accommodation and essentials to locals in need – we know they appreciate it too," she said.
"Thanks to the support of all the participants for the 2023 Sleepout, we've raised $179,835 to provide Sunshine Coast locals in need with emergency crisis and accommodation and support. Thank you for making a difference and we hope to see you again next year!"
Sunshine Coast Business Council members who participated included Chair Sandy Zubrinich, Kevin Covey and Kristine Hazelwood from Covey & Associates, William Wilson and Hew Williams from Watermark Constructions; Kate McCreery-Carr from Sunshine Coast Airport; Andrew Stevens from Project Urban, Matthew Byrne from Stockland; Ben Heaton from RPS; and Crista Dight and Melanie Holmes from TAFE Queensland. Sandy acknowledged those members who dug deep to support their colleagues and said that this was a particularly difficult time for fundraising as people and businesses are really feeling the bite of high costs of living including high energy and insurance costs and higher interest rates.