Call to support fundraising for the almost 900 people experiencing homelessness on the Sunshine Coast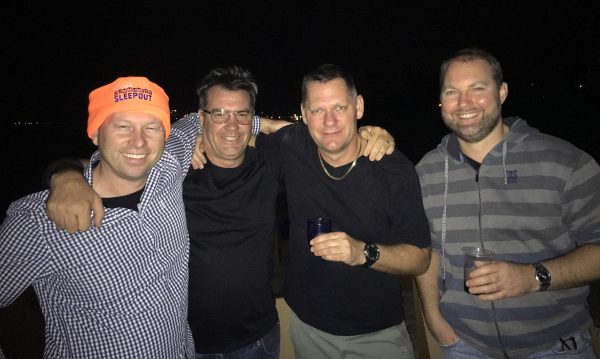 With homelessness affecting around 900 men, women and children on the Sunshine Coast, a group of local dignitaries, business people and community members are gearing up to sleep rough in the name of charity, participating in the Vinnies Corporate and Community Sleepout Sunshine Coast 2018 on Thursday, 23 August.
Sunshine Coast Business Council Chair Sandy Zubrinich said with only seven weeks until donning their winter woollies and rolling out their sleeping bags, she and the other members and politicians participating, are getting into fundraising mode.
"We're delighted that the Sunshine Coast business community will once again fully support this worthy cause to raise as much as possible for our homeless population on the Coast," Ms Zubrinich said.
"We have been supporting this event since 2014 and each year have sought to double our numbers and our contribution. We believe everyone has the right to sleep in safety and in comfort and this event is a great way to highlight the issue of regional homelessness just as the Vinnies CEO Sleepout does at a national level."
"Last year we had 33 people registered as part of the Business Council team and we raised $35,904 towards the total and we hope to exceed that number this year. I've already had commitment from a number of our members including Ben Simpson from Stockland, Peter Pallot from the Sunshine Coast Airport and Tony Vickers from Midson Contruction, who have all participated since 2014."
St Vincent de Paul Society (Vinnies) Northern Diocesian President John Harrison said he was very grateful for the support of the Sunshine Coast Business Council members who last year helped raise over half the revenue generated by the Sleepout event.
"The Sunshine Coast Business Council has played a significant role in the Vinnies Community Sleepout year after year and we are delighted they will once again be part of the event in 2018 as this promises to be our biggest year ever with a target of $150,000," Mr Harrison said.
"Having corporate and community support from organisations such as the Sunshine Coast Business Council helps us raise much needed funds and raise awareness of the work we do."
Mr Harrison said he was grateful to everyone participating in the Sleepout or donating to the cause, and hoped the initiative would prompt a better understanding of homelessness.
"Homelessness affects all types of people from all different backgrounds but what people often don't understand is that homelessness is predominantly not a choice. In many cases, homelessness comes about through factors out of a person's control — whether this is mental or physical illness, financial instability, lack of education, domestic violence or something else entirely," Mr Harrison said.
"Homelessness is largely invisible on the Sunshine Coast with many sleeping in cars, on the beach and couch surfing with friends — often with children in their care. The Vinnies Corporate and Community Sleepout gives the community a wonderful opportunity to make a difference and we encourage everyone to get on board."
Mr Harrison said in addition to delivering financial assistance for food, necessary travel, rent and bonds, St Vincent de Paul Society also connected homeless people in need with other health and education-focused organisations, and provided emotional support to assist over short term crises.
"St Vincent de Paul Society is focused on providing a hand up, not a hand out, so we want to make a real and sustained improvement to people's lives."
The Vinnies Corporate and Community Sleepout Sunshine Coast 2018 will take place on Thursday, 23 August outside the Maroochydore Surf Club. Participants will be provided with a piece of cardboard to sleep on or build a shelter with, and a basic meal of soup, bread, tea and coffee.
To donate to the cause, register to participate or find out more, please visit www.communitysleepout.org.au.
Note: There is over 2,800 people considered homeless in Vinnies Queensland's Northern Diocese which includes Gympie, the Fraser Coast and parts of the Moreton bay region as well as the Sunshine Coast and Noosa.